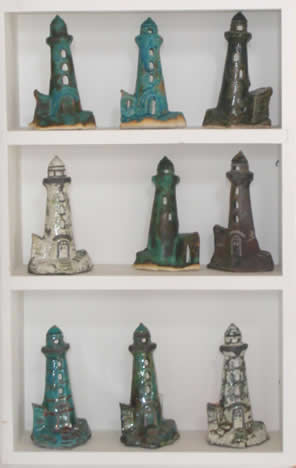 The Gallery offers a wide range of choices for raku connoisseurs. Lighthouses, Vessels, bowls, votive candles, Ikebana vases, nightlights and lamps can fill your special niche.


Fascinating and devilishly difficult to produce, Raku pottery that Connie designed is on view. Her art pottery will either beguile or bewilder you. You may get lucky and watch raku pottery being fired! In an outside kiln, the pots are quick fired to red hot and are removed from the kiln with tongs to a reduction chamber. There the pots burn wood shavings in an atmosphere without oxygen, using the oxygen of the pot, thus creating incredible colors or black crackle patterns. One never knows how the pots will turn out.
Functional highfire ware is a specialty and a mainstay. Connie makes a great variety of shapes and sizes as well as colors and patterns. The Blue & White pattern is an all time favorite, but Ocean Mist (blue & green), and our new Tangerine pattern are great sucesses.
All work is very durable and is safe for use in the dishwasher, oven and microwave.